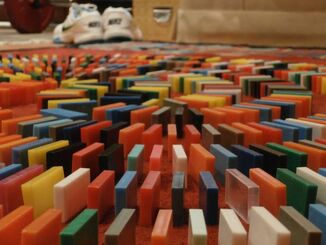 DESCRIPTION : 
The spiral is one of the first things that dominobuilders learn to make . And you also can make a spiral with almost every domino trick ( sonimod , fallback , and even walls and various structures ) . Also in-out spirals are invented , being hard to build if very big. An in-out spiral is a spiral in which when knocked down from the outside, every other line topples then the spiral turns in the middle and the other lines fall over such as the picture to the right. 
BUILDING : You will need just a few  general tips to build a nice spiral :
Always start in the middle . If you don't do this the spiral won't be circular . 
Like in turns , you have to put dominoes close , but without touching . 
If the spiral starts toppling from the middle , separate at least 5 cm one line from each other .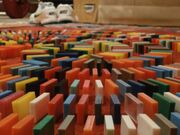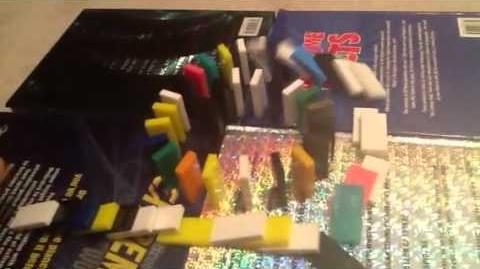 TRICK RECORD: The biggest domino spiral ever was created by SinnersDominoEntertainment. It consisted of 55,555 dominoes of which all toppled successfully.
(The picture shows a former world record with 30,000 dominoes.)