ORIGIN:
The Fallback was originally invented by Limeiron in 2007, However, the bottom line often fails, making the trick less reliable, As a result, a new version of the trick was invented by Annodomino2007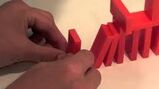 FALLDOWN : 
When the domino on the end of the tower falls on the domino than leans beside the tower, the tower topples thus reversing the direction of falling.

TRICK RECORD by dominololze , it had 1000 dominoes with a length of 26 feet .
Also, there is a very detailed tutorial of making fallbacks on YouTube by xXDominoMasterXx here .