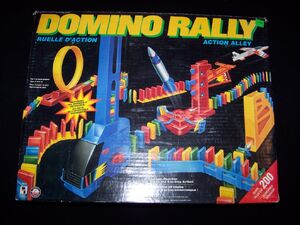 Domino rally is now discontinued. Beilieve it or not but 723tbones aunt worked for the packaging...... But that wasn't the reason I started building dominos. But it just was rebuted in 2012.
Original Domino Rally
Edit
Domino Rally was the first company to ever manufacture dominoes and sell them to the public. It was lead by Pressman inc., and came in various sets. Such as, extreme, neon, deluxe, dino, galaxy, intermediate, and much more. They cam in a crdboard box and usually had around 100 - 500 dominoes in them, Domino Rally also had many tricks such as the bridge, loop, pivot, zig-zag, and more. But the Pressman Domino Rally discontinued in the early '90s.
Goliath Era
Edit
For the fisrt time in two decades, Domino Rally came back onto television ads, and the market under a new maker. The Goliath toy company. Advertising started in late 2012, and has curently sold over $100,000,000 of sets.