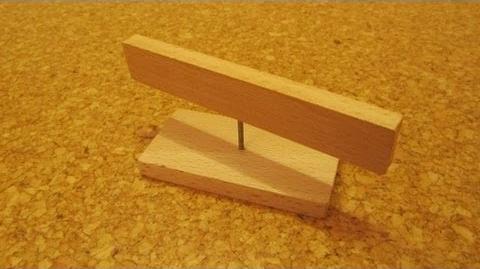 Direction Changers
Edit
The direction changer allows domino builders to make a 180 degree turn without building a curve. It was first introduced by the original domino day in the 1980's. Usually, the direction changer is made out of wood. They are an extremely useful component for any domino builder.
Because you are unlikely to find direction changers available in stores, most domino builders will choose to create their own. As you can see from the video above, if you have the proper materials, they can be fabricated fairly easily. Alternatively, you can also improvise by stacking four dominoes flat on each other and laying a wooden block on top.
For Purchase
Edit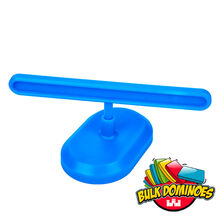 Instead of creating your own, you can purchase direction changers from a few different sources. For wooden ones, you can purchase them from Joseph Naberhaus's (Jdman1699) store page.
Bulk Dominoes began offering plastic directions changers called a "Domino Switch" in 2016; later changing names to a "Domino Spinner" in 2018. They can be purchased individually here: spinner. They are also part of the starter, expert, and master kits. Classic theme == blue spinners. Wonder theme == teal(starter, expert, master), sour apple(master), and purple(master) spinners. Power theme == neon orange(starter, expert, master), gold(expert, master), and blue(master) spinners. Mystery theme mixes the colors randomly giving a chance of any combinations of: neon orange, sour apple, teal, purple, gold or blue split color spinner top or base. (e.g. spinner top is neon orange, but base is purple) Bulk Dominoes also released a neon orange mini spinner for the mini sized dominoes. They come as part of the mini starter, mini expert, or mini master kits.
Finally, you can also use Knex, which can be purchased from almost any toy store, to create rudimentary, but functional direction changers.